1.What is your favorite book you've written and why?
Black Dragon's series are my favorite books because it was my first attempt to write erotica. I wanted so much for the books to show all the things that erotica can be…dark, exciting, sexy. Set in another world, I could make the men stronger, sexier, and yet somehow marred by their sheer perfection. The women in the story had to be equal to the men and yet show how they had to deal with the strong men in their life by being emotionally stronger.
2.What tips would you give a new writer?
I'll tell you right up front I hated this answer when I was first writing. Why because it sounds like a no brainer.
The answer – write.
Yes, I know what you're thinking. I'm doing that but I don't know if I'm learning what I need to learn. Let me reassure you. Writing a story of any kind takes devotion, not only to the characters and plot but also to the author's voice. If you allow yourself to bleed (crying, laughing, sweating) into the story, you are creating a voice that is unique to you. This is the trademark of who you are as a writer. Other skills can be learned in classes such as grammar, plotting, expounding on setting, not using too many passive phrases. But by writing for pleasure and getting the story out of your head and onto paper you are exploring you – the author, the method and desire to flesh out a story that will move your readers.
3.Is there anything you find particularly challenging in your writing?
Setting has always been a challenge for me.  Why?  Because I like a fast read. I dislike to much setting in a story. I know what a kitchen looks like so when I read I can become very annoy by writer who spend too much time with minute details. For this reason, I struggle with how much to include in my own story. I want to get to the good stuff which shows I'm impatience. Not the best trait for an author when you want to tease the reader and make them turn the pages to see what happens next.
4. When did you first, without hesitation, call yourself a writer?
Fun how this can take years to admit. It wasn't until I received my first contract before I'd admit to other that I was an author or writer. Only then did I stop hesitating before stating I was a writer with confidence.
5. What is your least favorite part of the writing process?
Editing – the right side and the left side of my brain work total different with the writing process. The right is fun the left side is work.
6. Describe your writing style in ten words or less.
A hot fast-pace ride to a mind-blowing read.
Section Two
Personal Questions
1. Do you enjoy giving interviews?
Yes. It always amaze me the question that people ask.
2. Do you ever go around in a corset, high heels, and a whip to get you in the mood to write something naughty?
No, if I'm wear those things I'm need to be naughty not just write about it.
3. Do you laugh at your own jokes?
Yes, because no one in my household thinks I'm funny. Men have no sense of humor.
4. Are you fun to go on vacation with?
I like to think so. I enjoy seeing new things and love to travel.
5. If you came with a warning label, what would it say?
Proceed with caution, this woman is known to cry over sad movies and make you burn with her smoking hot sex scenes. She's loyal, kind, and fun to snuggle with but hurt anyone she loves and she'll cause you intense pain while relishing every moment of your suffering. Best to avoid if not looking for a lifetime commitment because friends are for life, lovers are forever, and enemies live in hell.
Section Three
Website: http//www.anitaphilmar.com
Facebook: http://www.facebook.com/anita.philmar
My blog: http://anitaphilmar.blogspot.com
Twitter: @anitaphilmar
Title of current release: In Too Deep
Read the start of the story at http://www.anitaphilmar.com/InTooDeepbookpg.html
ebook:
Amazon | Smashwords | B&N | Kobo |
All Romance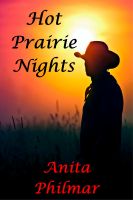 Also remember to check out my free read Hot Prairie Nights.
Anita