It was the night after Christmas
The prefect time for all naughty girls and boys to play.
So in white lace and red velvet,
a sexy girl stood near the decorated tree.
Her jolly young stud joined  her there,
all he wore was a small leather g-string.
"Now what should we do on this memorable night?"
A wicked grin covered his handsome face,
and he spread out a blanket on the carpet floor.
With fire burning hot in the fireplace nearby, he proceed to unwrap his sensuous gift.
and what to his wondering eyes should appear but two gorgeous tight peaks just begging for a lick, kiss, and a whole lot more.
A moan, a cry, a hungry "pleaseee" rang through the room.
And he couldn't turn down an offer for so much more.
She proceed to unveil the prize hidden beneath his shrinking g-string and cupped the gift in both of her hands.
"Oh, but I need to sample my special treat." She drew her tongue down the length and sucked on the end of the candy cane end.
He rocked and wiggle and begged for some relief, but she played and teased until he laid her down on his blanket on the floor. There they enjoyed the please of each other until they both screamed the words all the world was singing into the night.
"Merry Christmas my love, and may everyone enjoy what we did tonight."
So try a historical naughty story free at http://www.amazon.com/Hot-Prairie-Nights-ebook/dp/B00AA4A70E/ref=sr_1_4?s=books&ie=UTF8&qid=1375399969&sr=1-4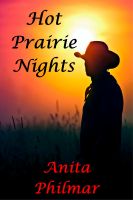 Have a great new year,
Anita
If you want to feel more,
Read Anita Philmar