Hi everyone,
I'm so excited to be a part of this group. There are some amazing erotic authors here with some awesome hot stories.
To tell you a little about me, I have been writing erotic for a number of years and have a wide variety of stories avail
able. I basically started with fantasy in the Black Dragon series, then move to shapeshifters, play around with a few story stories. Enchanted with the my roots, I gravitated to western and have settle for the moment on hot, historical western.
I just started a new series called Naked Bluff, Texas. The first book "In Deep Water" came out a few months ago.
Still, I'd like to introduce you to my work with a free read.
Hot Prairie Nights  is a short read that takes place in Kansas during the 1800's.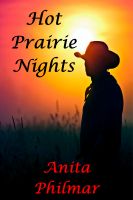 Here's the Blurb
It's a hard life living on the western plains. Elizabeth
Murphy knows she lives it every day.
Then just like some medieval knight in shining armor, a
stranger arrives at her door. He claims to be a friend, who is down on his luck
and looking for work.
Just looking at him sets her body on fire, and with them
sharing a small log cabin, the nights are bound to heat up. Can she resist the
chance to take a ride with the cowboy? Or should she trust him at all?
After all, he thinks wearing a shirt is an optional item and
he knows way too many facts about her dead gun slinging husband?
You can download Hot Prairie Nights at
or at amazon
Here's a little to get you started.
Chapter One
The sight at the end of her gun set Elizabeth Murphy on fire. Eighteen months without sex had her craving the touch of a man. Yet, most didn't even cause a stir in her blood, but this one sparked a reaction in her libido.
She blinked and stared at the man riding across her land.     What did he have that other men didn't?
Wide shoulders and with his cowboy hat set low over his eyes, he moved with the gate of the horse as if he were an extension of the animal. The gentle rocking reminding her of…she lowered her rifle. A deep-seated yearning curled in her stomach.
As a woman on a spread by herself, she couldn't afford to be friendly with strangers. No, she had to protect the ranch and greet everyone with caution.
Standing on the front porch of her cabin, she allowed her gaze to venture to the barn, then onto the corral where two horses stood. She'd brought them in from the fields a few hours ago in anticipation of her trip into town tomorrow. The sun sinking low on the horizon reminded her that she had supper waiting inside.
The increase patter of a horse's hooves caught her attention and she stared again at the stranger.
"Might as well stop right there," Lizzie called and cocked her gun. "I'm not much on uninvited guests."
The man pulled on the reins, drawing the horse to a walk and then to a stop. "I can understand why a woman in your position might feel that way, but I'm a friend of your husband."
The thought didn't inspire warmth. Instead, she lifted her gun. "My husband was a gun-slinging gambler. He didn't have the most reputable friends."
A slight smirk passed over the man's lips. He nodded. "Yes, but I knew him as a child back in Oklahoma. Heath Holmes is the name. I'm sure Daniel mentioned me once or twice."
The name did sound familiar. What had Daniel said about Heath?
She licked her lips and fought the hunger to see this man's strong muscular body naked and up close. She stared at his mount to gather more information. His black horse had the markings of a thoroughbred. The detail design of his saddle, and the rich quality of the man's clothes spoke of someone who had money. So why visit her here?
"I recall the name, but Daniel didn't particularly enjoy his childhood. His mother didn't provide him with a great upbringing." Lizzy lowered her gun to her waist but kept the barrel pointed at Heath. Could she trust him?
"True, at times he would have starved, if not for my family, but then with six mouths to feed, what was one more?" Heath swung his leg over the saddle and stepped down from his horse, and turned.
Lizzie's mouth watered and her palms slipped on the gun. She rested the butt of her rifle on the porch railing for fear of firing it off accidently. Thoughts of what Daniel has said about his youth warred with her desire to get to know Heath better. Her gaze slid down his six foot frame, broad shoulders, full chest, trim waist, and thick thighs. Nothing about him seemed to hint at him not being able to take on any task.
"Right, Daniel did mention his mother's love of whiskey and how your family was his saving grace." Lizzy waved him over to the barn. "Why don't you unsaddle your horse and put him in the corral? There's a pump next to the water trough if you want to clean up and stay a spell?"
She stepped back as Heath grew closer. The desire racing through her body tempted her with thoughts of jumping off the porch and into his arms. With only a few kisses, he could have her out of her bloomers and be pounding his cock deep inside her within seconds.
A sigh escaped at finally satisfying her lust for sex. Stunned by the needy sound, she rushed on with, "I was just getting ready to set down for supper, if you'd like to join me?"
"Thanks, I'll just get Sasha settled and be right in." Heath grinned and led his horse to the barn.
Hope you enjoy and thanks everyone at 69 Shades of Smut for letting me join the group,
Anita Philmar
Want to feel more?
Read Anita Philmar